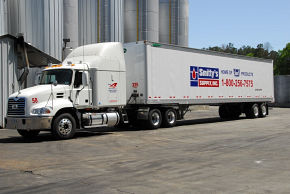 About Our Company
Smitty's Supply, Inc. is an auto parts, lubricants supplier and manufacturer of Super S, SureGuard and other private label lubricants. We have over 270,000 square feet of warehousing and packaging facilities located in Roseland, Louisiana. Smitty's provides products and services to all 50 states and over 50 countries. Smitty's has nine separate filling lines and 2 million gallons of bulk storage capacity. We manufacture various products from synthetic motor oils to tractor hydraulic fluids. We also distribute most national brands of lubricants, including Shell, Chevron/Texaco, Castrol, Valvoline and Mystik.
Brief History
Smitty's has expanded since its humble beginning in 1969 when our founder, the late Ray Smith, started selling his products in the back of his van. With an initial investment of $3,000, he sold fishing supplies, sunglasses, notions and auto parts. He later built a small warehouse in his back yard.

In 1987, Mr. Ray built the store that is now the main location to Smitty's Supply. Through expansion, Smitty's has added larger warehousing facilities, and started making the Super S brand lubricants.

In 2000, Mr. Ray sold the company to his four sons, Ed, George, David and Mitch. The brothers now carry the Smitty's legacy into the second generation. With recent additions of new bottling lines and blow molding equipment, Smitty's continues to expand its business to provide its customers with the products they need.

Mission Statement
The mission of the people of Smitty's Supply, Inc. is to provide quality products and dependable service to our customers at competitive prices. We will challenge ourselves to provide unique products and service advantages above our competition. We will seek long-term relationships with both customers and suppliers based on mutual agreement distinguished by trust and understanding. We will endeavor to attract, develop, and retain superior individuals to safely perform and administer business operations. We will strive for continuous improvement in all that we do.